Denys Cherevychko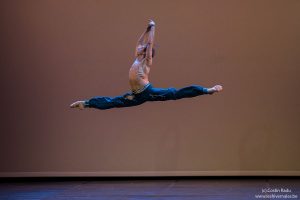 Originaire d'Ukraine, Denys étudie la danse avec Vadim Pisarev à l'Académie de Ballet de Donetsk avant de rejoindre, à l'âge de 16 ans, la Heinz Bosl Ballet Academy à Munich. Deux ans plus tard, il fait son entrée dans le monde professionnel au Ballet de l'Opéra de Vienne. En 2008 il est promu demi-soliste, en 2009, soliste et c'est en 2012, sous la direction de Manuel Legris, qu'il accède au grade d'Etoile.
Denys a participé à de nombreuses compétitions internationales, il a notamment remporté le 2ème prix au Concours des jeunes danseurs de Kiev en 2004, le 1er prix au Concours Serge Lifar à Kiev en 2004, le 1er prix au concours « Tanzolymp » à Berlin en 2005, la médaille d'argent junior au Concours International de Jackson en 2006, le 1er prix au Concours International de danse contemporaine à Vienne en 2007, la médaille d'argent à la Korean International Ballet Competition en 2010 et le 1er prix ainsi que la médaille d'or au 25ème Concours International de Varna en 2012.
Il était nominé pour le Prix Benois de la Danse en 2011 pour « The Vertiginous Thrill of Exactitude » de William Forsythe.
Il est invité régulièrement pour danser dans d'autres compagnies, notamment en Italie, Russie et France, ainsi qu'aux Etats-Unis.
Répertoire:
Basil, Don Quijote by Rudolf Nureyev
Prince, The Nutcracker by Rudolf Nureyev
Prince, Swan Lake by Rudolf Nureyev
Pas de deux, Romeo and Juliet (Act I) by Rudolf Nureyev
Alain, La Fille mal gardée by Frederick Ashton
Golden God, La Bayadére by Vladimir Malakhov
Pas de trois, Grand Pas in Paquita by Marius Petipa
Gopak, Taras Bulba by Rostislav Sacharov
Mercutio, Romeo and Juliet by John Cranko
Lensky, Onegin by John Cranko
Fried Fish, Mayerling by Kenneth MacMillan
Beggar king, Manon by Kenneth MacMillan
James, La Sylphide by P.Lacotte
Suite en blanc by Serge Lifar
Journeyman, Coppelia by Gyula Harangozó
Waiter, Promenade Concert by Gyula Harangozó
Robot and Chinese dance, The Nutcracker by Gyula Harangozó Jr
Solo couple, 'Theme and variations by Balanchine
Rubies by Balanchine
L´Arlésienne by Roland Petit
Ulrich / Csardas Soloist / Waiter, The Bat by Roland Petit
 TV-Choreograph, Le Concours by Maurice Béjart
The Concert by Jerome Robbins
The Vertiginous Thrill of Exactitude by William Forsythe
Skew-Whiff by Paul Lightfoot
Solo couple, Theme and variations by Balanchine
Pas de six, Laurencia by Wachtang Tschabukiani
Adjutant of the Prince, The Nutcracker by Renato Zanella
Moritz, Max and Moritz by Ferenc Barbay and Michael Kropf
Poet, The Doll Fairy by Josef Hassreiter
Main parts, Dance Hommage to Queen by Ben van Cauwenbergh
Le Souffle by Bubenicek
Glow Stop by Elo Yorma